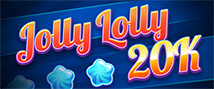 Game Version: 1.06.00 | SF - 1.8.0.0 | Game ID - 261
You're in for a delicious treat with this jolly match-to-win scratch card game with its super sweet bonus feature for instant cash prizes!
Basic Game Rules
Each game consists of 6 numbers to reveal and match to 3 reference (winning) numbers.
Match one number on your card to a reference number to win.
The available prizes are displayed below the 6 numbers, once revealed.
After the main card is revealed, you will be prompted to scratch the bonus field on the right of the card (if you have selected 'Play for Me' this will happen automatically).
If the bonus symbol (macaron) is revealed, you will win an instant cash prize.
The minimum duration of the game is 1 second
Game Instructions:
This game has a set bet amount that can't be modified.
Click 'Play' to buy the Card.
If one of the numbers on the card matches one of the three indicated reference numbers on the top, you've won!
The prize sum will appear underneath each number.
The total amount won for each round will appear in the 'Total Win' field at the bottom of the screen and will be added to your account balance ('Balance').
 In case of malfunction of the game, please contact customer support.
Game Buttons

Play

Press the Play button to start the game. 

Play For Me

Press the Play for Me Button to have the automated system play the game for you.

TurboPlay

Game is playing in Turbo mode.

(To stop playing in TurboPlay, click the menu button, select Play Settings and slide Turbo Play to the Off position.)

 

Home

Exit the game and return back to the Game Lobby.

Balance 

Your total balance amount (money you have deposited into your account).

Total Win 

Displays the amount won in each game.

Menu

Click the Menu button to view or change your Game Settings.

Game History Replay

Press the Game History Replay button to see your recent game logs.

Info

Press the Info button to find basic game rules and instructions

Bet Settings

Total Bet

The total amount you are playing in this round. 

This is calculated by multiplying the number of cards played by the bet amount:

Example:

Number of cards =5,

Bet amount = 2.

2 x 5 = 10

Total Bet = 10

 

Bet

This is your bet amount.

 

Back Button

Takes you back to the actual game.

Play Settings

Turbo

· On - Turn Turbo on to make the game go quicker.

· Off - Turn Turbo off to play the game on the default speed.

Sound Settings

 

 Sound

On - Turn the Sound on.
Off - Turn the Sound off.